New Mover Lists
N2O Marketing delivers several types of home security leads. From simple new mover lists to online leads – we have a home security lead solution that fits nearly every need. We also offer Online Shared Home Security Leads as well as Warm Transfer Telemarketing Leads.
---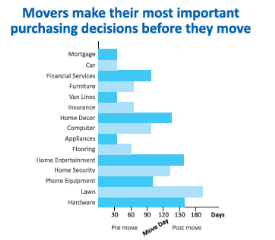 Through a partnership with one of the leading data sources, we are able to offer 4 types of new mover lists. The pricing can range between $0.09 to $0.20 per record.
New Mover Phone Data – 30,000 daily nationwide records – Compiled daily, this multi-sourced daily file offers nationwide coverage and gives you the opportunity to customize the list to fit your exact new mover target. It IS the first to market new mover file available.
New Mover Mailing Lists – 375,000 weekly nationwide records – Reach people who have self-reported that they have made a move. Each record contains current and previous address and allows for many demographic selections. (Age, Credit Card, Homeowner, Income, etc)
New Home Owners – 55,000 weekly nationwide records – Target confirmed home buyers within the last week. Confirmed 100% homebuyers, and does not contain any refinance, this file is perfect for your mail or email campaign to target a new mover. Updated demographic information is available upon request.
Consolidated Movers – 535,000 Weekly nationwide records – This file is a combination of all new mover files allowing you to maximize the reach of your campaign from one de-duped file.
Pre New Movers – 85,000 Weekly nationwide records – These soon to be movers have just taken a deposit on their home and will be moving within 30 days. Reach them by phone or mail before they have moved into their new home.
Fill out this form or give us a call to discuss New Mover List needs.
---
 Get New Mover Lists from N2O Marketing!