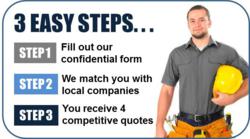 Houston, TX (PRWEB) July 31, 2011
There is a new pay per lead program now available for small and regional security companies called NitroQuotes for Security Dealers. NitroQuotes operates over 100 sites providing security sales leads through brands targeting each of the 50 states.
If an owner needs a quote for a business or home alarm system, they simply fill out a short online form. They are immediately matched with up to 4 national or local providers. Usually within minutes they will start receiving emails and phone calls from selected security companies in their area.
The first thing a home or business owner does after experiencing a life event such as a break-in or move is to conduct a search on Google or Bing. We offer a way to navigate through the myriad of logos and special offers to simplify and expedite the process,states Jami Vernon, Marketing Manager.
This service is rising in popularity with homeowners because they feel that a competitive environment gets them the best deal. This model also ensures that they engage with established companies which ease concerns about scam artists and identity theft situations.
Security companies like the service because the leads are simply more affordable than many traditional marketing efforts. With leads in many areas as low as $ 25 per lead and an average closing rate of 15%, this service is a way for a small, cost-conscious security company to grow profitably.
To learn more about NitroQuotes or to apply to receive leads please visit, http://www.NitroQuotes.com.
About NitroQuotes for Security Companies:
NitroQuotes is an online shopping service for home and business security systems. Our service will put you in touch with top alarm companies that can provide instant quotes for home alarm systems, home automation, business security systems, card access control systems and security surveillance camera systems. 
Press Contact:
Rick Guillo, N2O Marketing
Phone: 866-590-1463
Email: rguillo(at)n2omarketing(dot)com
###